Roaming around the web this morning I found so many neat things!
Have a Treasure Hunt with your kids or grand-kids. This is sooo cute!
PerfectlyImperfectBlog
Compare products and prices on everything for your home. I really like the blue Uptown Sofa.
CopyCatChic
Shopping for Antiques in NY well web/window shopping anyway. Love the mirror!
CocoCozy
Most Amazing Decorating/Crafting/Recipe Link Up Ever!
ChicOnAShoestringDecorating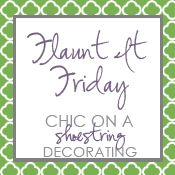 **Update I found something really interesting this morning! (Sunday the 29th)
Have you heard of
Just Unfollow
?? I just found it via a tweet from
3BoysAndADog
You sign up with your twitter account it is free and easy. It will show the people you follow that do not follow you. You then can unfollow anyone you would like from the same page! If you have tons that you follow you can upgrade for a fee but the free one works great for me. Thanks 3 Boys and a Dog!